Artistic Director Robert Falls directs his new adaptation of Anton Chekhov's The Seagull. This intimate and inventive production opens in the Owen Theatre October 25th.
An Introduction to The Seagull
Considered one of the great dramatic texts of all time, Anton Chekhov's The Seagull was a tremendous flop when it premiered in 1896. Chekhov was so discouraged by the play's reception that he renounced theater altogether. Thankfully for theater, Konstantin Stanislavski had just co-founded the Moscow Art Theater and convinced Chekhov to let MAT re-mount the play. Two years after its initial failure, The Seagull opened to rapturous acclaim and ushered in a new type of theater with a naturalistic style of acting and dramas that explored psychological realities of its characters.
A much more prolific short story writer, Chekhov's reputation as one of the great playwrights of world drama was solidified with only four major plays – The Seagull, Uncle Vanya, Three Sisters, and The Cherry Orchard.
The Seagull Synopsis
A synopsis of Anton Chekhov's The Seagull
It is a summer evening and a make-shift, homemade stage stands in the outdoor setting of Sorin's estate and farm in the Russian countryside. A lake serves as natural scenery behind the stage. Medvedenko, a poor schoolteacher, believes he would be a happier man and a more attractive suitor to Masha, the daughter of the estate manager, Shamrayev, if he had more money. Snorting snuff, Masha openly acknowledges that she knows Medvedenko loves her but explains that she cannot love him back. She is fixated on her love for Konstantin Treplev, Sorin's nephew.
Treplev, son of the celebrated but aging actress Arkadina, is nervous and busy as he gets things ready for the first performance of his play. He knows his mother doesn't support his work in the theater and fears she does not love him. He longs to be accepted as a great dramatist by her and her peers, the writers, actors and other artists who comprise the Russian intelligentsia, and not just because he is her son. Nina, the star of the play, arrives and tells Treplev that her parents are afraid she will want to become an actress if she spends time with the bohemians at Sorin's estate. She says that it is the lake that attracts her to the estate, "as if I were a seagull." Nina and Treplev kiss. Treplev tells her he loves her, but Nina does not return his affectionate talk.
Guests arrive for the play. They include Shamrayev and his wife Paulina, Dr. Dorn, Masha, Medvedenko, Sorin, his sister Arkadina and her lover, Trigorin. We learn that Paulina is still in love with the doctor. She begs him to rekindle their romance but Dorn is apathetic about her affection. Arkadina shows off to the group by reciting lines of Gertrude from Hamlet. Treplev competitively responds by reciting Hamlet's lines back to her, comparing Arkadina's relationship with Trigorin to Gertrude's tainted relationship with Claudius.
Treplev's play begins and it is abstract and symbolic. Arkadina rudely interrupts the performance several times by talking out loud to her friends and showing her dislike for her son's play. When a special effect of red lights sulfur rises in a cloud from the stage, Arkadina makes such a fuss that Treplev ends the play and runs off.
Nina meets Trigorin for the first time and shows her surprise that Arkadina and Trigorin act like normal people even though they are famous. Arkadina laughs at Nina's awe of Trigorin as a writer. Treplev re-enters with a rifle and a dead seagull in his hands. He puts the seagull at Nina's feet. He tells her that he shot the bird in her honor and that one day he will be like the seagull. Nina accuses him of talking in symbols and they argue about their relationship. Treplev laments her change from warm to cold. Treplev expresses his conclusion that Nina stopped loving him because his play was a failure. Treplev exits bitterly when he sees Nina's fondness for Trigorin.
Trigorin brings up the news that he and Arkadina are leaving the estate to go back to the city, explaining that his obsessive-compulsive behavior that forces him to document everything he observes in his memory and on paper for future use in a story. Trigorin sees the seagull that Treplev shot and writes down a note about Nina, saying that she has inspired him to start a new story about a girl who is ruined by a man just like the seagull that Treplev destroyed. Announcing that she has been convinced to stay on the estate, Arkadina interrupts Trigorin and Nina.
Masha keeps Trigorin company and confesses her plan to marry Medvedenko even though she doesn't love him. Nina gives Trigorin a parting gift of a medallion with his initials inscribed on one side and the title of his book, "Days and Nights" on the other. She asks him to give her two minutes more before he leaves. Trigorin discovers that inscribed on the medallion is a page and line number from his book. As he goes off stage to find the book in order to read the quote to which Nina's gift refers.
Treplev, who has tried to kill himself, asks Arkadina to change the bandage on his head. They share some tender moments of lighthearted memories but their conversation soon disintegrates into insults and competitiveness. Treplev ends up crying, mourning the loss of Nina's affection. Arkadina tries to cheer him up and tells him that Nina will soon come back to him because Arkadina is taking Trigorin away from the estate. Trigorin enters, mumbling the line from Nina's inscription, "If you ever need my life, come take it." He muses over the line and it means something to him. He asks Arkadina if they can stay.
Arkadina challenges Trigorin about his interest in Nina. Trigorin portrays himself as a man who missed out on the splendors and excitement of youthful love because he spent his youth writing to make a name for himself. Fearing the loss of the man she loves, Arkadina pleads, kisses, flatters, and begs on her hands and knees for Trigorin to leave with her. Her persuasive talk convinces Trigorin to leave but when he and Nina catch a few private moments, she tells Trigorin her plan to move to Moscow at once and to try her luck at an acting career. Trigorin tells Nina to stay at the Slavyansky Bazaar Hotel and to let him know as soon as she gets there. Before he rushes off to get in the carriage, he steals a long passionate kiss from Nina, sealing their promise to meet again.
Two years have passed and on a stormy night, Medvedenko and Masha discuss Sorin's fading health and his desire to be near Treplev. Medvedenko pleads with Masha to go home with him to their baby. Masha refuses. While Masha makes a bed for Sorin on the divan, Paulina comments that no one thought Kostya (Treplev) would become a genuine writer, but now he is making money writing and looks handsome. Masha tells her mother that Medvedenko has been offered a teaching job in another district, and they are to move away in a month.
Dorn asks Treplev about Nina's life now. Treplev tells Dorn that Nina had an affair with Trigorin and became pregnant. But the baby died and Trigorin left her and went back to Arkadina. Treplev recounts how Nina played starring roles in summer theater plays outside of Moscow that moved to the provinces but that she played her parts badly. He used to visit her on the road and see her perform, but Nina refused to see him. Treplev eventually gave up following her around. Nina would send Treplev troubled letters and sign them, "The Seagull." Treplev compares Nina's signature to a character in a Pushkin play who signs his name, "The Raven." Treplev reveals that Nina is staying nearby in town at a hotel; Masha went to see her, but Nina refused to talk to her. Nina's parents have hired armed guards to keep her away from their house next door to Sorin's estate and Medvedenko swears that he saw her walking through a nearby field.
Arkadina and Trigorin return to the estate. Trigorin brings Treplev a copy of the latest magazine in which a story of his is published. Arkadina begins a game of lotto. She recalls her family's tradition of playing the game to pass the time. Treplev notices that Trigorin read his own story in the magazine but did not bother to read Treplev's.
Treplev is left alone in his study. He looks over his writing and criticizes himself out loud for being cliché. He compares his writing to Trigorin's with envy and despair. He hears a knock on the window. It is Nina. Nina enters the house paranoid about Arkadina finding her there and asks him to lock the door. Treplev props a chair against the door. Nina and Treplev admit to each other that they have sought each other. Nina's speech becomes fractured and confusing. She cuts off her own thoughts. She says she is "the Seagull" and compares herself to a homeless wanderer in a Turgenev story. She cries. She says she feels better because she has not cried in two years. Nina acknowledges that Treplev is now a writer, and she became an actress but her life is difficult. She thinks nostalgically about their youth and their youthful love.
Treplev again professes his love to Nina and recounts his torment when she left him, how nothing he has accomplished has been meaningful to him because she was not present to share in his successes. Nina tells Treplev about the depression she suffered when she realized she was a bad actor. Her story breaks down, and she repeats Trigorin's idea for a story about a girl who is destroyed like the seagull by a man who has nothing better to do. She concludes that what is important for an artist is not how successful you are but that you persevere. Nina becomes weaker. Treplev asks her to stay. Nina confesses to Treplev that she still profoundly loves Trigorin. She recites lines from the play remembering the innocence and hope that she and Treplev felt the summer they put it on. When Nina hears Trigorin's laughter and realizes he has returned to the estate with Arkadina, she hugs Treplev goodbye and runs out.
Treplev, recognizing that Nina's love is lost to him, proceeds to tear up his manuscripts and throws them under his desk. Arkadina and the rest of the household come back from dinner and start another game of lotto. Dorn pushes in the door that Treplev propped closed with a chair. Shamrayev presents Trigorin with the stuffed seagull. Again, Trigorin says he does not remember asking for it to be stuffed. A shot goes off in a loud bang, offstage. Arkadina becomes frightened. Dorn calms her down presenting the thought that the sound was probably only a popped cork in a bottle in his medicine bag. Dorn goes to check on the sound and comes back to the group. He takes a magazine and brings Trigorin aside, pretending he is interested in discussing an article on America. Dorn tells Trigorin that he needs to get Irina Arkadina out of the house quickly because Treplev has shot himself. Arkadina does not hear Dorn's sad news before the play's end.
On Stage
An Interview with Robert Falls
Interview by Tanya Palmer
A few weeks before rehearsals began for The Seagull, Goodman Artistic Director Robert Falls talked with Tanya Palmer about his process for preparing to direct the play.
Tanya Palmer: You recently took a trip to Russia to see theater and meet theater professionals. Can you talk about what sparked your interest in Russian theater, and how the work you've seen there is distinct from work that you see in the United States?
Robert Falls: This recent trip to Russia was my first time there in 25 years. The trip that I took 25 years ago—when it was still the Soviet Union and was in the midst of Perestroika—was enormously influential on me, in particular because of my exposure to a director named Lev Dodin and his work at the Maly Theater in St. Petersburg. His production of Brothers and Sisters by Fedor Abramov was probably in the top three productions I've ever seen in my life because of the meticulous, detailed acting. I went back twice over the next year to watch Dodin work; he ran a conservatory for actors as well as his theater company and a lot of the actors who were students became a part the company. Dodin himself had had a teacher who was a student of Stanislavsky's, and so he was working in what I would say was a very strict Stanislavskyan methodology which I really didn't understand or appreciate at the time.
TP: So you didn't really understand the process, but you were intrigued by the effects?
RF: Over the years I've realized that all of us in the Western theater have inherited the work of Stanislavsky, who without a doubt invented modern acting. But I think I confused Stanislavsky's system with Lee Strasberg's Method and the work of any number of American acting teachers who were teaching a sort of watered down or highly subjective version of Stanislavsky's theories and techniques, which I then absorbed as a director and have used fairly successfully throughout my 30-year career. But because of my recent travels throughout Europe seeing a lot of interesting work I started to question my approach. So about two years ago I began rereading Stanislavsky's books An Actor Prepares and Building a Character. They've been newly translated by Jean Benedetti and brought together in a volume called An Actor's Work: A Student's Diary. It's a brilliant new translation that totally makes clear everything that he was trying to say. I also reread Stanislavsky's autobiography, My Life in Art, and started to realize what Stanislavsky was all about—that he was constantly experimenting, that he was not locked into realism. The other thing that happened is that since the fall of the Soviet Union a number of Stanislavky's papers and Chekhov's letters and journals that were previously unavailable have become public—or, more accurately, unexpurgated.
Stanislavsky and Chekhov were embraced by Stalin as examples of Soviet realism and were held up as the model of Russian theater, much to the horror of Stanislavsky, who lived until 1938. So in the final years of his life, Stanislavsky essentially went into hiding because he did not want to be used as an official artist of the Soviet Union. He turned his apartment into an acting studio and hid out there for about seven years, experimenting with two new approaches to actor training and working on text: the "system of active analysis" and the "system of physical actions." I read about them through a variety of scholarly papers. They were quite fascinating and opened my eyes to what Stanislavsky was trying to do in the rigor of his work, his obsessive pursuit of truth. So it's really been Stanislavsky that I've been excited by and interested in for about the past two or three years. But that then took me naturally to Chekhov since the two of them are linked forever by the creation of the Moscow Art Theatre and their production of The Seagull.
TP: Have you directed Chekhov's work in the past?
RF: Yes—I directed a collection of his short stories adapted by seven American playwrights called Orchards, which led to my directing a production that I really loved and is one my favorite things that I've ever done: Three Sisters at the Goodman. With this recent study of Stanislavsky I decided to work on The Seagull in part to retrace Stanislavsky's work on it. Not imitate it, but try to model it as a way of understanding Stanislavsky and understanding Chekhov. I applied Stanislavsky's "system of active analysis" to some extent in King Lear and to a greater extent in Desire Under the Elms and even more in Johnstown Flood. So it's been a gradual shift of how I work based on this rigorous text analysis. It's a way of really carefully looking at the text and breaking it down into beats and actions and events. I think all of this intensive work on the text liberates the actors because once they get up on their feet, they know exactly what they're doing in a scene.
My intention with this production of The Seagull is to give the actors more freedom, which is why the production that I'm intending is stripped down from the large scale operatic work of the past three or four productions I've done for the Goodman. I'm sort of reversing that and going into the Owen to create what I think will be a rich but very intimate production of The Seagull.
TP: We've talked a little bit about what initially drew you to The Seagull. Now that you've spent all of this time studying the text, what are the things that you feel most connected to in the play? What are you most excited about exploring?
RF: It's a play about art and how one approaches art. Virtually everybody in the play has some connection to writing or the theater or acting. And even those that don't make art are rather obsessed with it. I think The Seagull is ultimately the greatest play about actors, but it's also a great family play. Those two things are of interest to me. The Seagull was the first of Chekhov's plays that I ever read, and, of course, when you're 17 or 18 you completely identify with Konstantin—the tragic artist of the play. But over the years I've continued to read the play—I put The Seagull in the category of most plays by Shakespeare or O'Neill, Miller, Williams, Ibsen and Molière—plays you return to throughout your life. I've realized that I've come to understand each of the male characters a little better as I've gotten older. There was a period of time, probably in my 30s, when I really understood Trigorin, and now that I'm in my 50s I find myself identifying more with Dr. Dorn and Sorin. So it's a play I've grown up with. It's also a play I've seen a lot. I've seen at least a dozen productions of The Seagull. But for some reason, while I have seen at least four really brilliant productions of The Cherry Orchard, transcendent productions (all of them different, all of them beautiful), I've only seen one really wonderful production of The Seagull and that was when I was in college. It was directed by André Gregory, who was one of the most influential and foremost avant-garde directors of the 1960s and 70s. It inspired me to go to this great, great play and explore it in my own personal way.
A Conversation with Mary Beth Fisher
Interview by Lara Ehrlich
Actress Mary Beth Fisher will be featured as Arkadina in Robert Falls' production of The Seagull. A few weeks before rehearsals began, she talked with the Goodman's Lara Ehrlich about her early experiences with Anton Chekhov's masterful play.
Lara Ehrlich: Could you tell us about how you fell in love with The Seagull when you were young?
Mary Beth Fisher: I was a junior in high school and I was babysitting for my new neighbors' young infant. Of course this was before cable television, so sports was the only thing on. In my despair I turned to the public television station and it was playing the Theatre in America series. It was the Williamstown Theatre Company's production of The Seagull with Lee Grant, Frank Langella and Blythe Danner. I had never heard of Chekhov but I sat down and watched it—my mind was completely blown! With my babysitting money I bought my first copy and read The Seagull over and over again. I promised myself that one day I would play Nina. And I did—it was my professional debut at The Guthrie Theater.
LE: What was it about The Seagull that captivated you?
MBF: I was fascinated because it is about people who know that art is a major part of their lives. I didn't know you could make a living in art; that was a complete revelation to me. I didn't grow up in a family that went to the theater or had music or visual arts in their lives and so this was a major turning point in my education as an actor and as a person.
LE: Before you saw The Seagull, what did you think your profession would be?
MBF: I was in the drama club at my school but I thought that it was only an activity. I was really into science and had actually just completed an amazing chemistry course so I thought I might go into chemistry.
LE: Do you identify with the play differently now than when you first read it?
MBF: Absolutely. When I was a teenager I really identified with the angst of the two characters Nina and Konstantin. I took their love affair and their desire to be new wave, cutting edge actors very seriously. I took the point of view of these struggling young people, but now I see the larger picture and can relate to the adult characters. I see their motivations and their desires as deeply funny—I can't read this play without laughing out loud.
LE: What do you hope audiences take away from the production?
MBF: My hope is that the company, and our production, will allow audiences to be as amazed by Chekhov and his characters as I was as a teenager, and that they find it as profoundly funny as I do now as an adult. It is a very special project and Bob's complete devotion to it will ignite this company's and the audience's passion for it.
Anton Chekhov as Writer
The Bet
Anton Chekhov was best known as an author of short stories for most of his literary career. Beginning as a young man writing entertainment pieces for a local paper, his works grew in both popularity and complexity. Many of his roughly 200 short stories remain classics today. These works deal with profoundly human issues impervious to the passage of time.
"The Bet" is a psychological drama in which a group of party goers debate the death penalty vs. a lifetime in prison. To prove his point that the death penalty is more humane than imprisonment for life, the banker bets 'two millions' that a young lawyer cannot live in solitary confinement for fifteen years. Along with commentary on human rights, "The Bet" illustrates greed, isolation, and how human beings behave under extreme conditions.
The Bet
IT WAS a dark autumn night.
The old banker was walking up and down his study and remembering how, fifteen years before, he had given a party one autumn evening.
There had been many clever men there, and there had been interesting conversations. Among other things they had talked of capital punishment.
The majority of the guests, among whom were many journalists and intellectual men, disapproved of the death penalty.
They considered that form of punishment out of date, immoral, and unsuitable for Christian States. In the opinion of some of them the death penalty ought to be replaced everywhere by imprisonment for life.
"I don't agree with you," said their host the banker. . .
To read the entirety of  "The Bet" Click Here.
Streaming full text audio versions of multiple Chekhov short stories can be found Here.
The Seagull in Production
An Introduction to Stanislavsky and The Method
Generally when we see a play, we enter into the space with some knowledge as to what creates the final stage product. It's understood that the life on stage is on perpetual repeat throughout the show's run. Stage conventions such as blocking, light cues and a strict floor plan all ensure that the production follows a set routine. In rehearsals, actors practice lines and memorize their places for every scene. If an actor crosses to a different place or says a line in a new way the audience may recognize this change as an accident. The fluidity and originality present in Robert Fall's The Seagull, however, is anything but accidental.
Falls' production defies several conventions that many understand to be essential in directing a play. The ensemble of The Seagull never walked upon a taped-out floor plan, neither did they repeat a cross from upstage center to stage right from rehearsal to rehearsal. The lighting design is soft an unfocused to allow for total spontaneity of action. Everything that happens on stage is based upon or serves choices made in the moment. Although it seems radical to forgo some of our most established stage conventions, Falls is pulling from well known theatre traditions.
Konstantin Stanislavksy, a Russian director and actor, is known for pioneering the acting technique which eventually contributed to "The Method." He developed these techniques as a response to the first Moscow Art Theatre production of The Seagull. When Stanislavsky read Chekhov's script, he realized that there was much greater complexity beneath the characters' seemingly mundane actions. These characters had deep inner lives that were hidden from the surface, as the bulk of an iceberg is hidden below the surface of the water. As a result, Stanislavsky developed a doctrine that drama happens inside the character and should be played from inner thought and emotion. One of his most significant contributions is his "system of active analysis", used by Mr. Falls, demands that the actors actively explore the content of the play, using a dynamic response to the conflicts and relationships between characters. Unlike other directors of Russian theatre at the time, Stanislavsky believed that physical action should happen as a direct result of inner emotion – emotion moving actors to the point of action, rather than stock gestures employed arbitrarily to convey emotional ideas. In short, he believed in life in art, but never intended to create a rigid acting system.
Jewish American theatre director Lee Strasberg drew heavily from Stanislavsky's techniques and theory after seeing a Moscow Art Theatre performance and learning from two of Stanislavsky's proteges who came to teach in America. With The Group Theatre, he adapted what is known today in American theatre as "The Method." He believed that an actor could rely on sense memory, and that acting was the essence of life on stage or film. As such, the actor should be able to react to imaginary stimulation as well as he or she would to real stimulation. One of the most characteristic elements of this Method is the actor bringing elements of the character into his or her own life – adopting mannerisms, phrases, or more extreme aspects. This more rigid and defined incarnation of Stanislavsky's ideas receives criticism as well as praise, but Strasberg's technique is one of the most heavily used in American theatre. "The Method" almost always refers to Strasberg, not Stanislavsky, and is a common confusion.
Robert Falls also draws heavily from Stanislavsky for this production. There is a method involved: his actors allow their emotions to provoke physical action in themselves and the others onstage, and they are in the moment. They are not hindered or helped by blocking, and are free to make their own choices in terms of movement or major dramatic gestures – all of these choices are based in the qualities of the life at that moment on the stage. Falls has gone back to the roots of the form, and does so as much through his own identifications with the play's characters as through realism and the spirit of Stanislavsky. The ensemble presence of his actors at the rear of the stage throughout the scenes also recalls a basic principle of Stanislavsky and MAT co-founder Danchenko. According to Moscow Art Theatre School head Dr. Smeliansky,  Stanislavsky and Danchenko "… in their mission to discover the truth in drama, discovered that its essence is the ensemble." This production of The Seagull strives to achieve something different and explore outside common boundaries. Much of it can be summed up in these words of Stanislavsky:
"Like all revolutionaries, we broke the old and exaggerated the new."

-Konstantin Stanislavsky
Resources and Further Information
Below are some resources for further research on Stanislavsky's techniques or Strasberg's "Method." There are videos illustrating exercises and concepts, as well as links to outside sites:
Official website of the Lee Strasberg Theatre & Film Institute.
Article from the Los Angeles Times on Lee Strasberg and his Method, on Nov. 22, 2009.
Site for the Moscow Art Theatre Semester program, in partnership with the Eugene O'Neill National Theatre Institute.
Modern Cross Disciplinary use of Stanislavsky's System
Below is a video documenting a marriage of art and science. Scientists studying human movement as linked to emotion have found a perfect mode of study in Stanislavsky's system. The experiment tracks actor's movements using Stanislavsky techniques.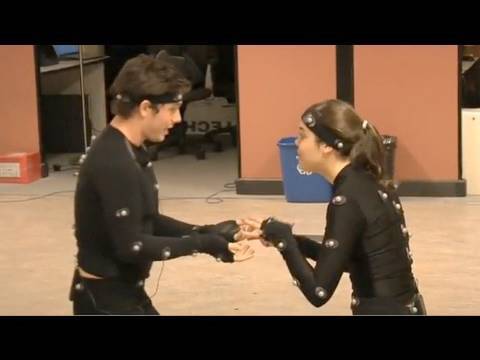 The Seagull Activities
Curious to learn more from your study guide on The Seagull?  Many of the articles in The Seagull study guide have corresponding activities that are great for the classroom or individual learning. The goal of these activities is to help enrich your understanding of the articles.  Each activity is listed under the title of its article. These range from written projects, to research, to performances and presentation. Some require help from teammates, and some are individual endeavors. You can find them below:
The Process of a Production
Activity 1: Like Robert Falls, you and members of your small group are going to stage an adaptation of a Chekhov play. This play can be The Seagull or another of your choice. Assign roles: One team member should be: set designer, costume designer, lighting designer, sound designer, director, casting director, and dramaturg (a person who researches the historical or modern context of the play and helps to make changes to the script as necessary).
In these roles, you and your teammates should form a presentation demonstrating your concept for the production. Each teammate, through drawings, writing or other forms, will demonstrate how they will contribute to the concept and play an active role in developing the production. For example, the sound designer could provide a list of sounds and music to be used in the production, and the casting director could provide head shots of famous actors for each role with justification for his or her choices. All the materials from each team member should be compiled in one portfolio and presented to the class.
The How and Whys of Adaptation
Activity 1: Adaptation is a creative, challenging and – if done well – deeply satisfying process. It allows the adapter to transform a classic text into a modern piece, with language and issues pertinent to the present day.
Choose a section of the script — perhaps a longer section, perhaps a monologue — and create your own adaptation. What state are the characters in? What time period? Is this Chicago? Is it 2010? Take time to make sure the language reinforces your choices.
The Life of Anton Chekhov
Activity 1:The starting writer must often sacrifice in order to gain recognition, often neglecting his or her artistic passion in order to write something that will sell and create a buzz. Chekhov had to do this early on, but his work developed into what he wanted it to be. Fortunately, you can do both!
Write two pieces. One for your favorite magazine, and a creative short story. The magazine article can be on any topic that you feel would appear in that magazine and should be a short article – either a review or an editorial piece. The creative short story should be no more than a couple pages, but may be on any topic. When you're finished, examine the two pieces. What restrictions did writing for a magazine place on you? Do you find you used a different tone? How are the two written pieces alike and how are they different?
Activity 2: Create a mix tape or mix CD for Chekhov. Each song should represent a different period in his life, and it may do so through tone or lyrics. Provide a track listing and justification for your choice of each track. Next, design a cover for the tape or your CD that you feel represents your artistic choices and your ideas about Chekhov's life. Present this CD, choosing a few tracks to play for your class.
Novelist, Playwright, Short Story Composer: One Author
Activity 1: What are modern forms of entertainment that utilize allusions, or references, from other sources to disguise or enhance their message? Compose a 30-second commercial. While selling the main message, see if you can incorporate either a positive or negative allusion that makes a statement about the product or idea.
"Misery" by Anton Chekhov
Activity 1:Adaptation is a challenging skill to master. It's your turn to adapt Chekhov's short story Misery into a short play of your own.  Beyond adapting the form from short story to a play, this is a chance for you to practice adaptation across cultures. Set Misery in current day Chicago.
Feel free to change the names, professions and dialogue of the piece. Remember: Adaptation is not creating an entirely new work, but rather reworking the original into a new form so that themes and ideas are accessible to a modern audience. Break into small groups. Create an idea. Pull out what you think would be relevant for a performance. After you create the script, put on a show!
Chekhov at the Moscow Art Theatre
Activity 1: Based on what you've learned, do some further research on the artistic ideas and beliefs of Anton Chekhov and Konstantin Stanislavsky. Think about what they agreed and disagreed on. Now, imagine these two artists are in Chicago and plan to stage a modern production of The Seagull. How would they make the production relevant for today's Chicago audience? Do you think many of their beliefs would be the same or different?
Create a presentation for the class with a partner or small group. This could be in the form of a short script featuring the two men and other characters as needed. You could also stage a mock debate as if the two were in a rehearsal room, or have the two men give individual presentations. Any form is acceptable as long as you follow main points, both outlining an initial conflict and providing a resolution.
Activity 2: Pretend that, like Stanislavsky and Danchenko, you want to start your own theatre company. Who would you like to work with, and what do you want your company to accomplish? Assemble a dream team of artists, and establish a mission statement, ideas for funding, and an first season of plays or musicals. Present your ideas.
More Than Cloth Doors
Activity 1:Chekhov's illustrations of average people, such as the depressive, vodka- and snuff-loving Masha, were radical changes to a set art form. Brainstorm two of your favorite shows — one reality show and one scripted show. List their characteristics: length, characters and focus. What are the differences? What are the similarities?
Activity 2:Make a survey of 3-5 questions regarding what is more popular: reality or scripted shows. Pass it around the class,and be sure to ask friends and family members. Based off of the answers, what do you think is currently more popular? What do you think the next popular type of entertainment will be? Why?
The International Creation and Spread of Realism
Activity 1:Think about your own life. Do you have certain habits? Make a list of objects that you use every day. How does the ritual of using the object change depending on your mood? Make a list of moods. Have a classmate read out an emotion. Interact with the object in your usual way. See if any differences occur with your relationship to the object depending on your emotional state.
Symbolism in The Seagull
Activity 1: Choose one of your favorite books, films, plays, TV shows, or albums – not just a song. Make a list of any symbols that may appear in this work. You may know it's a symbol if it occurs repeatedly throughout the piece and seems to be more important than it should be – for instance, a character may have an obsession with a particular object or keep referring to a place that may seem otherwise insignificant. What do you think these symbols represent? Create some form of artwork or visual representation of these symbols. This can become anything from a collage or a chart specifying each symbol and how/when it is used. Present your work.
Activity 2: With a partner, choose a scene from The Seagull. Some of the best scenes for the exercise include Konstantin's play and Nina's return into Konstantin's death at the end. Identify each time one of the major symbols appears in the scene. Now, remove these symbols and replace them with other ones or leave them out entirely. How does this affect the scene? With your new script, find out. Stage a reading for your class, with you and your partner playing one or several characters.
A Study of Self
Activity 1:What are other venues for this style of storytelling? Songs, reality television and soap operas are all popular forms of self-reflection that chronicle internal changes in characters. It's now your turn to create a portrait of self-reflection. Break into small groups and work collaboratively to write a five-minute skit. Use either voiceovers, text, or pictures to document how the main character(s) processes the events that happen in the course of the action. Use detail to tell these stories. We are curious to understand how and why the character(s) behaves. When you're confident with the final product, show it to the class.
Skin Deep
Activity 1:Brainstorm a list of male actors over the age of 50 that appear in movies and popular television shows.  Now, brainstorm a list of female actors over the age of 50 that regularly appear in popular forms of entertainment.  Is there a discrepancy between the totals?  If so, what accounts for this difference?  What do you think are the over arching effects of these portrayals on the general public, and on individuals?
Hero Worship: The Good and the Ugly
Activity 1: You work as a journalist for a major magazine. You've just received your newest assignment: interview your greatest hero. This person can be a "major" or "minor" celebrity, or a "human interest" piece on someone closer to your personal life. This hero can also be living or deceased. Make a list of questions (no more than 10) that you would ask your hero in an interview about his/her life, achievements and career. Create a headline and introduction for the interview. Then, think about how this person would respond to your questions. Base this on your own experiences and research if necessary. Present your mock article and share with the class.