June 27, 2013 in Blog
By Kendra Benner
All my life I've been told it's important to have a dream job.
What's mine? I have so many interests – theater, journalism, education, entrepreneurship – I've never been able to pick just one job.
My dream was more about where I was working than what I was doing. For me, in my teenage years and in college, my dream was to work at Goodman Theatre.
I think the special culture of the Goodman is infectious – once you experience it, you want to keep coming back for more. I got my first taste when I was seventeen. I was part of Cindy Bandle Young Critics, a program for Chicagoland girls where I learned how to write reviews of plays and improve my reporting skills – a perfect combination of my beloveds, theatre and journalism. Every other Saturday morning I trekked to the Goodman for the program workshops, excited to find out what amazing actor, director or writer I would get to interview next.
Fast forward two years. I entered my freshman year at the University of North Carolina at Chapel Hill, a precarious university choice for a staunch northerner. A lot of people were surprised by my choice to go to school in that foreign land (also known as the South). But, I think it makes sense in light of the story behind it – a story that was written by the Goodman.
One of my most memorable moments as a Young Critic at the Goodman was hearing Brian Dennehy speak about his career in theater. He told us that to be successful theater artists, we had to continuously step outside of the theatre world. He said the key to becoming a great person of the theatre is being a great person of the world – study subjects you've never explored before, meet people from all corners of the Earth, and jump into all colors of experiences.
His words simmered in my mind for months. When the time came to choose between UNC and a university closer to home, I thought of Mr. Dennehy's advice. Great thespians jump into the unknown, and "The Southern Part of Heaven" was definitely an unknown. It was a scary prospect, but when I thought of Mr. Dennehy's words, the risk felt right – and my decision to don light blue and white was official.
As my decision to be a Tar Heel was set in stone, so was my dream to work at the Goodman. My love for risk-taking, my taste for live performance, and my passion for theater as an avenue for social change – so many things about me were shaped by this theater. I wanted to use my passions to give back to the organization – and discover how much more there is to learn at Goodman.
For three years my dream lingered in my mind, until the moment in early February when I told my Dad, "I have to be a Goodman intern."
I dove into the application process. The Goodman had many different internships to choose from, but I set my sights on the Education & Community Engagement internship. Theater has been a special teacher in my life, and I wanted others to experience that, too. I admired the Education department's belief in using theater for social change through its educational programs – like showing high school students students the power of their creative voices in the General Theater Studies summer program. This was definitely a movement I wanted to be a part of.
Three months, seven resume drafts, two interviews and one overjoyed "I got it!" phone call to my parents later, and my dream had come true.
Enter, the first day of my internship. I felt excited and prepared – and I tried to walk with the post-makeover professional confidence of Andy Sachs in The Devil Wears Prada.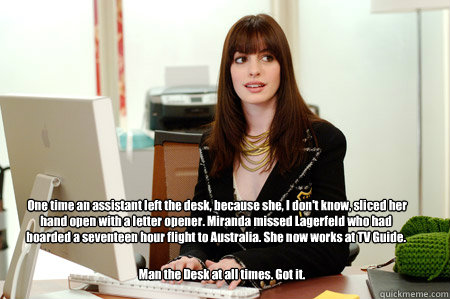 There were five minutes until I had to leave for the train station. I started to pack up my bag when I realized – there was no packing list for internships. What kind of stuff was I supposed to bring? I didn't want to be the awkward-exploding-backpack kid on the first day, but not having enough supplies would be embarrassing.
Commence frantic Googleing. An article from "InternQueen.com" popped up. That sounded legit. I shoved everything in my bag that the article listed – a notebook, five pens, makeup, hairpins, socks, comfy shoes, an umbrella, train schedule, mints, cell phone, laptop, pony tail holders, my Goodman ID and a train pass.
Me, overpack? Never.
Next stop: Union Station. I hopped on the train and surveyed the people who surrounded me – businesspeople – iPhone in hand, shiny shoes on foot. Toto, I have a feeling we're not in Naperville anymore. That was until…I sat on the train directly across from a girl from my high school. "Hey, Kendra! How's school going?" she said cheerily, breaking my cover as a classy urban professional. Oh well, can't win 'em all.
As I stepped out of Union Station, bombarded by the sun's reflection off the Chicago River below and towering skyscrapers above, I was completely taken with the city's beauty. Wearing the glassy-eyed gaze of a first-time tourist, I didn't care. My dream was finally coming true, and I felt like the city knew it and was welcoming me in as one of its own.
My dad and I made the 20-minute walk from the train station to the Goodman, and from the first to the last step, he jokingly tried to pump me up for my first day on the job.
"Hey, Kendra," he said with a smirk. "Wouldn't it be cool if, like, you were interning at the Goodman or somethi— Oh, wait. You are!"
I laughed. "Yeah, you're right Dad. It is pretty cool," I said, trying not to make a scene in case one of my soon-to-be coworkers was near me. But on the inside, I was bubbling with excitement.
Check out the second installment, coming next week!