In Ancient Greece, where the seeds of Western theater originated, plays were more similar to today's contemporary plays than many people may think—elaborate costumes, larger-than-life masks and huge sets made of stone are just a few things that graced the stage in the days of Sophocles and Aeschylus. One important difference between our theatre and that of the Greeks is the progression that developed in 534 BC; for a long time, plays were made up of large groups of actors called a chorus who moved and spoke as one unit. They often sang, making the lines sound more like chanted prayer than spoken word. Around 534 BC, it is believed that playwright Thespis did something that was, at the time, unprecedented; he had one of the chorus members step out from the collective to speak alone. Soon after, another chorus member stepped out of the formation and spoke to the first. This was the first instance of dialogue.
In a play there are two primary ways that characters can communicate information to the audience—dialogue and monologue. The difference between them is simple; dialogue is a series of shorter lines shared between two or more characters, whereas a monologue is only spoken by one character. There are several different types of monologues; a soliloquy is often an inner monologue, something that is said by a character so that only the audience can hear—Hamlet's "To be or not to be" speech being an example: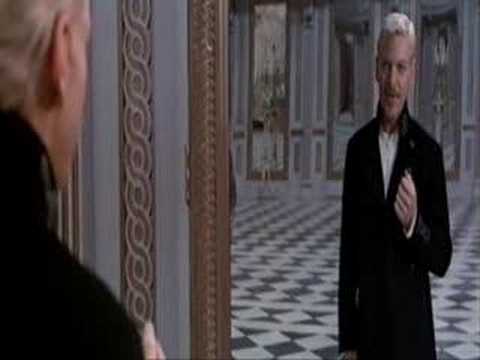 An apostrophe is a monologue that is spoken by a character to someone who is not there, or to an abstract idea, such as in King Lear's "Blow winds!" speech: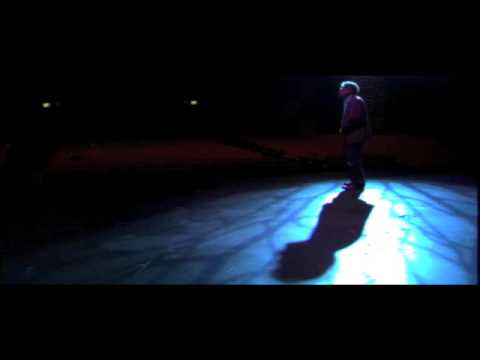 Over the centuries, theatre has gone from focusing on monologue, to focusing on dialogue, but in the past few decades, the tables have turned once more; there has been a recent upsurge of monologue-driven plays that have been produced to significant success, telling stories that only monologues can tell.
In the last century, there have been a number of one man and one woman plays written and produced—these plays are quintessential examples  of plays driven by monologue—mostly since there are no other characters for the actor on stage to dialogue with. One of the first notable examples of this play is Krapp's Last Tape, written by Samuel Beckett.
Brian Dennehy in Krapp's Last Tape, directed by Jennifer Tarver. Courtesy Goodman Theatre.
In the one-act play, a man named Krapp sits at a table in front of a tape recorder on his 69th birthday puts a tape in and presses 'play'. What comes out of the tape recorder is Krapp's own voice, thirty years younger. He spends the entire play reflecting on the last thirty years of his life, through tapes that he has recorded each year, slowly revealing to the audience that this will be, in fact, Krapp's last tape.
Beckett wrote Krapp to be a complex character, slowly revealing facts and information about Krapp's life to the audience. Something that is different about this piece from other monologue-driven plays is the presence of a "fourth wall". In theatre, the fourth wall is the invisible wall that stands between the actors and the audience. In most one-person plays, the fourth wall comes down so that the sole character may have someone to talk to. The difference with Krapp's Last Tape is that Krapp has no one to talk to but his younger selves—he never addresses the audience.
One-person plays have taken on countless other faces since the 1950's, including Patrick Stewart's one-man A Christmas Carol, in which he played all 46 characters in the Dickens novel.
Here is the Music Player. You need to installl flash player to show this cool thing!
Latino actor John Leguizamo wrote and performed five one-man plays, both on and off-Broadway, all to great success; most of these plays focused on telling story through monologue—presenting an established truth—but in the early 1990's, a storyteller emerged whose goal was bringing truths to events that are shrouded in supposition
In 1991, a young Caribbean-American boy was struck by a Hasidic Jewish man's car in Brooklyn's Crown Heights neighborhood. This tragic accident was a lynchpin for the infamous race riots that raged through Crown Heights that year. The two communities that populated a majority of the neighborhood exploded with hatred, and conjectures concerning what really happened began to emerge. Soon after the riots subsided, actress and playwright Ana Deavere Smith returned to the scene of the crime, so-to-speak, and started investigating.
The product of Deavere Smith's research was Fires in the Mirror, a one woman play in which she recreated, to the smallest detail, interviews that she conducted with the citizens of Crown Heights and the surrounding area. Deveare Smith's attention to detail was superb; she embodied her interview subjects completely, down to the number of times that one woman shook her sugar packets before ripping them half way open and pouring them into her coffee.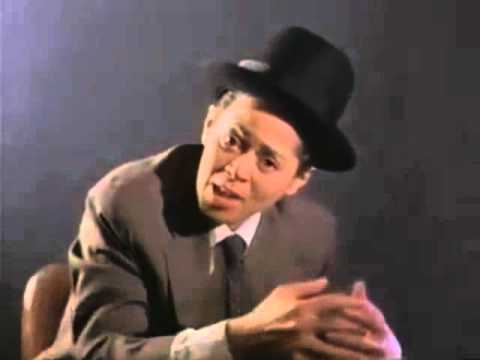 Deveare Smith's work like Fires in the Mirror and later, Twilight: Los Angeles brought documentary-style theatre, or docudrama, to the forefront of artists' attentions in the 1990s. One playwright in particular used docudrama in a different way entirely in his play about the murder of a gay youth in 1998.
Moises Kaufman and the Tectonic Theatre Project went to the University of Wyoming in Laramie in 1999 and conducted hundreds of interviews around the brutal murder of student Matthew Shepherd. Shepherd's death changed legislation surrounding hate crimes in the United States and around the world—his attackers acted out of hatred, and those who were fighting to preserve Shepherd's memory sought out proper justice. While it was ten years before President Barack Obama signed the Matthew Shepherd Act into law in 2009, Kaufman's play surely had a hand in its success.
Kaufman and his company wrote The Laramie Project using the interviews that they conducted in Laramie, Wyoming, news articles from the incident, as well as their own journal entries from their experience. In The Laramie Project, eight actors portray sixty different characters in a series of short scenes. It has been performed worldwide and was made into an HBO movie in 2002. After the success of The Laramie Project, Kaufman and his collective followed up with another docudrama, this time focusing on a transgendered German antiquarian.
Wright had been in contact with Charlotte von Mahlsdorf, born Lothar Berfelde, a transgendered patricidal woman who lived through the Nazi and Communist regimes in Germany. Wright carefully examined her physicality, posture, accent, and word choice and recreated her character in a one-wo/man play called I Am My Own Wife.
Jefferson Mays in the Pulitzer and Tony award-winning I Am My Own Wife, courtesy Goodman Theatre
Wright worked with Moises Kaufman and his Tectonic Theatre Project to develop the work to immediate success. Kaufman directed the piece and was the sole actor, dressed in drag and putting on von Mahlsdorf's German complete persona, to chilling accuracy. Kaufman and Wright won five awards, including a Tony and the Pulitzer Prize for Drama, both in 2004.
Following the works of Deveare Smith and Moises Kaufman would be no easy task, but in 2009, Dael Orlandersmith debuted Stoop Stories at The Public Theater's Under the Radar Festival, in which she played dozens of characters of varied ages, genders, and ethnicities. Orlandersmith wrote a number of other one-woman plays, including Yellowman at Manhattan Theatre Club, for which she was nominated for a Pulitzer Prize and Drama Desk Award.
Dael Orlandersmith in the Goodman Theatre production of Stoop Stories. Courtesy Goodman Theatre.
Orlandersmith is set apart by her unique style of storytelling as well as her ability to physically and vocally encompass the characters she is portraying. Her most recent production, Black and Blue Boys/Broken Men is another one-woman play. Her characters are all male, range in age from eleven to fifty. They come from extremely varied backgrounds but are all connected by their histories of abuse. Orlandersmith's works focus on the stories of different characters centering on one theme, and her work is praised for its ability to tell a story unlike any before her.