September 14, 2010 in Blog by Willy-Landon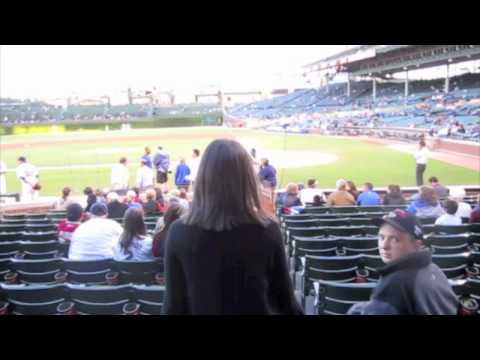 On September 8 the cast of the Goodman's Candide sang the National Anthem at Wrigley Field as the kick-off to a Cubs game! This video was made by our very own Lauren Molina, who plays Cunegonde. Watch the full video above.
The cast includes Geoff Packard in the title role Candide; Lauren Molina as Cunegonde; Larry Yando as Pangloss; Hollis Resnik as the Old Lady; Jonathan Weir as the Governor; Erik Lochtefeld as Maximilian; Margo Seibert as Paquette; Jesse J. Perez as Cacambo; and Tom Aulino as Martin. Ensemble members include Spencer Curnutt, Rebecca Finnegan, Govind Kumar, Rob Lindley, Tracy Lynn Olivera, Emma Rosenthal, Thomas Adrian Simpson, Joey Stone, Tempe Thomas and Joe Tokarz.